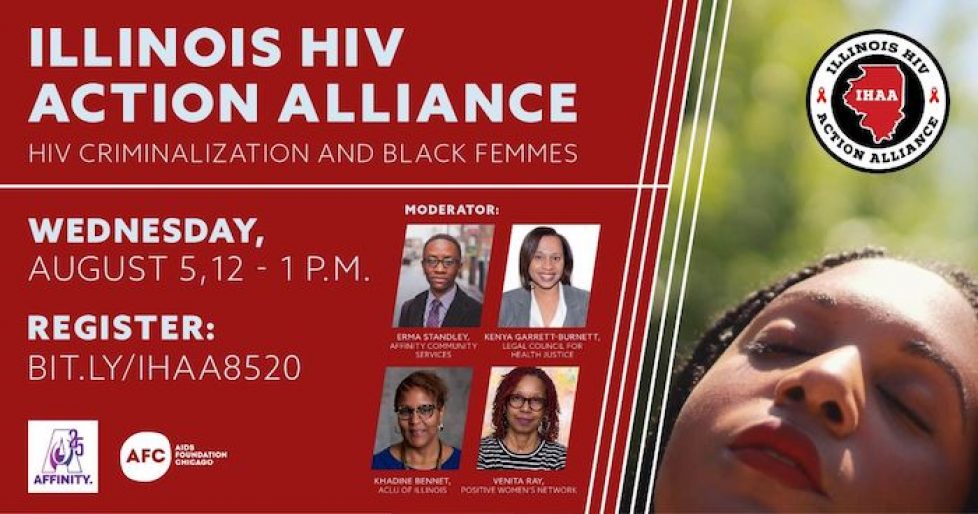 Thursday, August 20, 2020
12–1 p.m.
Link to register: https://bit.ly/ihaa8202
On Thursday, August 20, join the discussion as to unpack Illinois laws that specifically criminalize people living with HIV, hear about the harms these laws cause directly from a survivor, and learn ways you can work to end HIV criminalization alongside the Illinois HIV Action Alliance (IHAA) — a coalition seeking to eliminate HIV-based social stigma and criminalization by centering the voices of people living with HIV.
"When I was on trial myself, not one person in the room knew much about HIV. If I was convicted, I could have possibly lost my children, home, and would even have been labeled a sex offender. HIV is not a death sentence, but people in many states still believe it is." Monique Howell, Author, Activist and Survivor of HIV criminalization.
Moderated by: State Representative Camille Y. Lilly (D-Chicago, 78th District) 
Panelists: 
Monique Howell, Author, Survivor, Activist 
Milo Inglehart, Transgender Law Center 
Scott Schoettes, Lambda Lega