Partners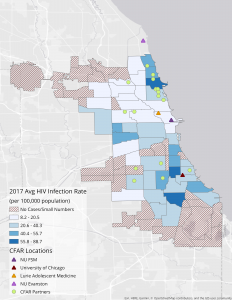 Third Coast CFAR partners span an extensive geographic area of Chicago and serve as a model of trans-institutional and trans-disciplinary collaboration. The map at the right overlays locations of all CFAR sites with the most recent HIV incidence data in Chicago.
Northwestern University
One of the country's leading private research universities, Northwestern University includes three CFAR sites (from north to south on map): Northwestern University Evanston (NU Evanston); Northwestern Special Infectious Diseases Laboratory (SIDL); and Northwestern University Feinberg School of Medicine (NU FSM), the primary CFAR site for administrative functions. Read more
Find an HIV researcher at NU by searching the directory on the Northwestern Scholars website.
The University of Chicago
Located on the south side of Chicago, The University of Chicago (UC) serves as another research hub for CFAR activities, bringing together researchers from the Biological Sciences Division, School of Social Service Administration, and Pritzker School of Medicine to fight HIV. Read more
Find a faculty member in UC's online directory.
Chicago Department of Public Health
Through its STI/HIV Services Bureau, the Chicago Department of Public Health (CDPH), enables new and expanded collaborations among CFAR partners. The Bureau is responsible for identifying HIV-related priorities and funding interventions to address them. Each year the Bureaus' Planning Council conducts a needs assessment to identify unmet needs, gaps in services, and barriers to care in Chicago. It conducts integrated STI and HIV surveillance, prevention and care activities through the following programs: HIV Prevention, Partner Services HIV Primary Care, STI Clinical Care, HIV Housing, Ryan White Part A and STI/HIV Surveillance.
Illinois Department of Public Health
The mission of the Illinois Department of Public Health (IDPH) is to protect the health and wellness of the people of Illinois through the prevention, health promotion, regulation, and the control of disease and injury. Its HIV/AIDS Section leads statewide initiatives and coordinates the delivery of HIV testing, prevention, and care services, as well as surveillance and epidemiology. The HIV/AIDS Section collaborates with the Centers for Disease Control and Prevention (CDC) and the Health Resources and Services Administration (HRSA) to fund vital services statewide and is committed to connecting every Illinois citizen to needed prevention and care programs. With broad input from policy makers, clinicians, and community advocates, IDPH released the Illinois Integrated HIV Prevention and Care Plan (2017-2021) which details strategies for addressing HIV priorities in Illinois.
Howard Brown Health
Howard Brown Health is one of the nation's largest lesbian, gay, bisexual, transgender, and queer (LGBTQ) organizations. With an annual budget of over $59 million, the agency serves more than 27,000 adults and youth each year in its diverse health and social service delivery system focused around seven major programmatic divisions: HIV/STI prevention, primary medical care, behavioral health, research , youth services, elder services, and community initiatives. The health center serves men, women, trans and gender non-conforming folks, infants, youth, and children through a multi-site operation based in Chicago that includes a main health and research center in the Uptown neighborhood, Howard Brown Health Sheridan, and our other clinics Howard Brown Health Halsted in Lakeview, Howard Brown Health Clark in Rogers Park, Howard Brown Health 63rd Street in Englewood, Howard Brown Health 55th Street in Hyde Park, and the Broadway Youth Center.
AllianceChicago
AllianceChicago is a group of community health centers with the mission "to share resources and integrate services to more efficiently and effectively deliver accessible, quality health care to the communities we serve." The Alliance (All) serves more than 600,000 clients annually at over 25 sites, including primary care, mental health, substance abuse, and dental facilities; women, infant and children offices; school-based clinics; soup kitchens; and homeless shelters.
The founding members of AllianceChicago include Howard Brown Health (HBH), Near North Health Service Corporation (Near North), Erie Family Health Center (Erie), and Heartland Health Outreach (HHO). Each are Ryan White-funded federally qualified health centers, together caring for approximately 4,000 HIV patients each year.
AIDS Foundation of Chicago
Founded in 1985 by community activists and physicians, the AIDS Foundation of Chicago (AFC) is a local and national leader in the fight against HIV/AIDS. They collaborate with community organizations to develop and improve HIV/AIDS services; fund and coordinate prevention, care, and advocacy projects; and champion effective, compassionate HIV/AIDS policy. AFC has been recognized by HRSA and CDC as a national best practice model for HIV case management. AFC will be integral in disseminating research information to the Alliance and other Chicago HIV clinics and prevention-related sites to augment the reach of the Third Coast CFAR, as well as performing research.
Center on Halsted
Center on Halsted (COH) is the Midwest's most comprehensive community center dedicated to advancing community and securing the health and well-being of the lesbian, gay, bisexual, transgender and queer (LGBTQ) people of Chicagoland. COH's HIV/AIDS services include performing over 4,000 HIV tests annually, prevention activities among high risk young men who have sex with men, and HIV care linkage and support services. CFAR's community engagement and research participation activities will be enhanced through this partnership and by embedding staff at the center.