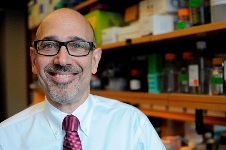 Third Coast CFAR Director, Richard D'Aquila, was recently featured in Northwestern News. The article highlights his contributions to HIV research over the past three decades.
Dr. D'Aquila is the founding director of the multi-institutional Third Coast Center for AIDS Research and the Howard Taylor Ricketts Professor of Medicine in the Infectious Diseases Division at Northwestern University Feinberg School of Medicine. His laboratory aims to develop novel interventions against HIV persistence that will lead to a functional cure, and stop inflammatory complications not yet addressed by successful antiretroviral therapy. He previously led pioneering laboratory studies of antiretroviral combinations against HIV and multiple collaborations on antiretroviral drug resistance research.
You may read the article here.