The Third Coast CFAR would like to congratulate Dr. Tom Hope, director the Viral Pathogenesis Core, and Dr. Ann Carias, a pilot awardee, and partners at the Kenyan AIDS Vaccine Initiative, for their growing research partnership. Their USAID blog post describes their work on mucosal immunology and the strides their collaborative teams have made toward building sustainable scientific and technical capacity at the University of Nairobi.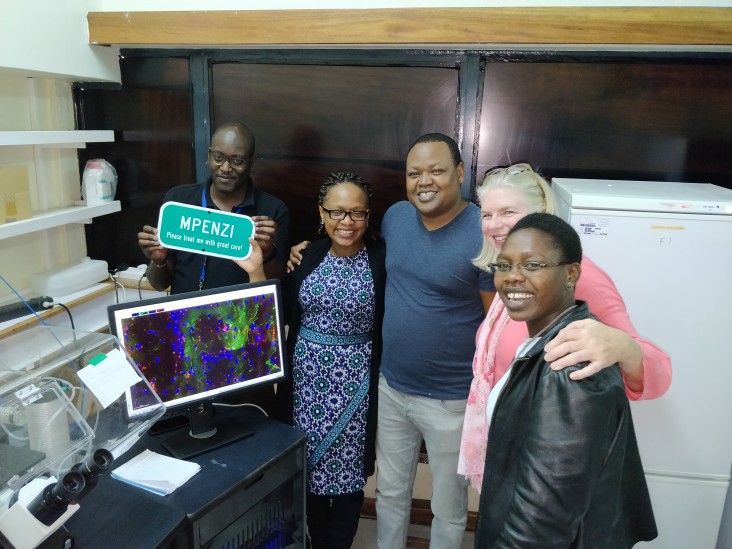 On May 18th, the world marks the 21st World AIDS Vaccine Day—a day that serves as an annual reminder of the urgent need for an HIV vaccine. Historically, vaccines are the most efficient and effective public health tools to prevent infectious diseases. At the behest of the US Congress, USAID has been actively working toward a safe and effective vaccine to prevent HIV infection since 2001. In the Agency's current Cooperative Agreement (CoAg) with the International AIDS Vaccine Initiative (IAVI), known as Accelerate the Development of Vaccines and New technologies to Combat the AIDS Epidemic (ADVANCE [PDF, 570K]) program, there is an intentional focus on building sustainable scientific capacity in Africa for HIV vaccine research and development (R&D).
To accomplish the goal of strengthening local, sustainable biomedical research capacity in Africa, our team in the Cell and Molecular Biology Department at Northwestern University(link is external) are working in partnership with IAVI through the ADVANCE program. We recently developed a pioneering approach to advancing HIV vaccine R&D through novel methods of studying mucosal immunology in Chicago and South Africa and wanted to make comparisons with the epidemic in East Africa. Our method requires analyzing biological samples from at-risk key populations to study the immune responses to HIV infection at mucosal membranes. This cutting-edge science requires a sophisticated instrument to study mucosal immunology. At the heart of the ADVANCE project is the concept of self-reliance, which, in this case, began with USAID facilitating the placement of state-of-art instrumentation at the University of Nairobi as a means to study mucosal immunology in Kenya. USAID technical staff predicted that supporting this step could function as a magnet to attract local talent and self-sustaining funding.
Why the University of Nairobi?
Since 2001, IAVI and subpartner, Northwestern University, have established a long-standing collaboration with Kenya's premier HIV Vaccine Research Unit, the Kenyan AIDS Vaccine Initiative within the Institute of Clinical Research (KAVI-ICR) at the University of Nairobi. The leadership of KAVI-ICR engaged the Northwestern University team after our recent success in creating similar, local capacity to conduct mucosal immunology research/studies in South Africa. Through their CoAg with USAID, IAVI provided pilot funding for experts from our team to teach young scientists at KAVI-ICR to collect and evaluate mucosal samples to enhance our understanding of how HIV moves across mucosal barriers into the bloodstream and whether an HIV vaccine can be designed to prevent HIV from establishing infection across these natural barriers.
At our first site visit to meet with key KAVI-ICR staff in September 2016, it was clear that the enthusiasm of the young researchers, combined with an exceptional partnership with the University of Nairobi Hospital surgical teams, provided an outstanding environment to conduct such sophisticated and informative mucosal studies where truly sustainable capacity could be strengthened. In addition, to support scientific progress, USAID & IAVI helped secure a wide-angle deconvolution microscope for the team.
Leveraging New Resources: Success begets Success
After a year of training both in Nairobi and Chicago, the KAVI-ICR team began a series of mucosal immunology studies using locally acquired samples to study the initial steps of HIV infection in the mucosal tissues of the female reproductive tract. As the precious samples became available and the sophisticated instrument was competently operated by Kenyan scientists, we developed a 5-year project to leverage local scientific capacity to better understand HIV transmission and dissemination, which will inform HIV vaccine design. The project addresses important questions like understanding why certain women are at higher risk of HIV acquisition; how HIV moves across mucosal barriers into the bloodstream; and, most importantly, which mechanisms of natural protection against HIV infection can be mimicked by vaccine responses.
To further this worthy scientific endeavor, and in the spirit of nurturing self-sustaining scientific operations in line with the Agency's Journey to Self-Reliance efforts, we submitted our 5-year project called "Impact of mucosal environment on HIV acquisition" to the US National Institutes of Health (NIH) and it was accepted in its first iteration for full funding. Obtaining such independent and internationally recognized funding in this highly-competitive area of NIH-funded research directly originated from what USAID and its partners began. Thank you, USAID, for bridging our teams together from Chicago to Nairobi through your artful skill in developing scientific capacity. Now, back to the lab to find that vaccine!
Thomas J. Hope, Ph.D.
Tom is a Professor in the Departments of Cell and Molecular Biology, OB/GYN, and Biomedical Engineering in the Feinberg School of Medicine at Northwestern University. He has been fighting HIV/AIDS through research for more than 30 years.
Ann Marie Carias, Ph.D
Ann is a Research Assistant Professor in the Departments of Cell and Molecular Biology in the Feinberg School of Medicine at Northwestern University. She is internationally known for her imaging-based research to understand HIV transmission.