2019 Inter-CFAR Women and HIV Symposium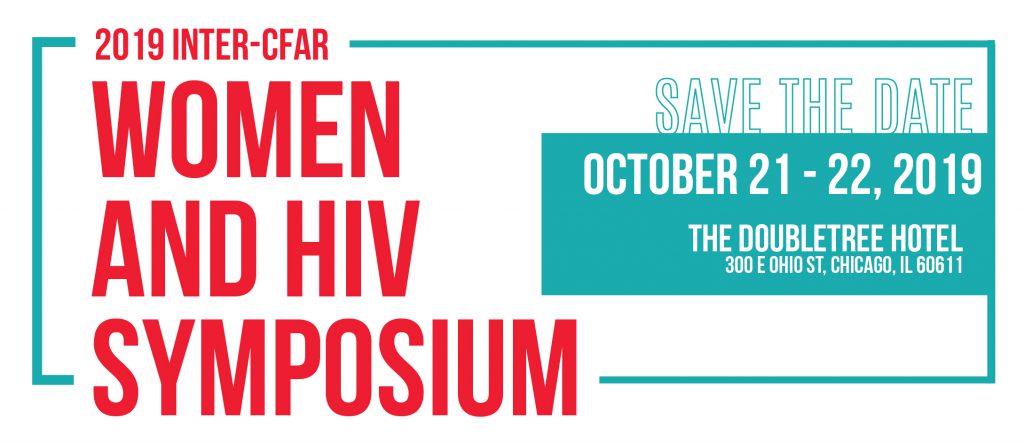 Overview
The goal of the Inter-CFAR Women and HIV Symposium is to identify gaps in knowledge in HIV and women's research and develop strategies that will move the field forward. In order to accomplish this goal, we aim to generate collaborative activity between CFARs and other research networks, highlighting cutting edge science and promoting opportunities for early career investigators.
Session Topics
Session I: Hormones, hormones, hormones
Session II: Long Acting ARV formulations for treatment and prevention: Are there sex differences?
Session III: Optimization of Pre-Exposure Prophylaxis in Cis and Trans Men and Women
---
Speakers Include:
Jared Baeten, MD, University of Washington
Renee Heffron, PhD, MPH, University of Washington
Adam Burgener, PhD, University of Manitoba
Thomas Hope, PhD, Northwestern University
Maricianah Onono, PhD, Kenya Medical Research Institute
Kim Smith, MD, MPH, ViiV and University of North Carolina at Chapel Hill
Raphael Landovitz, MD, MSc, University of California, Los Angeles
Robert Schieffer, MBA, Northwestern University
Ariane Van der Stratten, PhD, MPH, University of California, San Francisco
Maya Green, MD, Howard Brown Health
Lisa Hirschhorn, MD, MPH, Northwestern University
Jessica Ridgway, MD, The University of Chicago
Al Liu, MD, San Francisco Department of Public Health
Jae Sevelius, PhD, University of California, San Francisco
Angela Kashuba, PharmD, University of North Carolina at Chapel Hill
Sharon Hillier, PhD, University of Pittsburgh
---
Registration Will Open in Summer 2019
---
Organizing Committee
Phyllis Tien, MD
University of California, San Francisco
UCSF-Gladstone CFAR
Renee Heffron, PhD, MPH
University of Washington
UW/Fred Hutch CFAR
Thomas Hope, PhD
Northwestern University
Third Coast CFAR
Susan Cu-Uvin, MD
Brown University
Providence Boston CFAR
Susan Cohn, MD, MPH
Northwestern University
Third Coast CFAR
Roslyn Taylor, PhD
Northwestern University
Third Coast CFAR
Richard D'Aquila, MD
Northwestern University
Third Coast CFAR
---
Contacts
Abstract Competition
Lauren Sterling, UCSF-Gladstone CFAR
hivwomen@uw.edu
Symposium Logistics
Justin Schmandt, Third Coast CFAR
cfar@northwestern.edu