2019 Inter-CFAR Women and HIV Symposium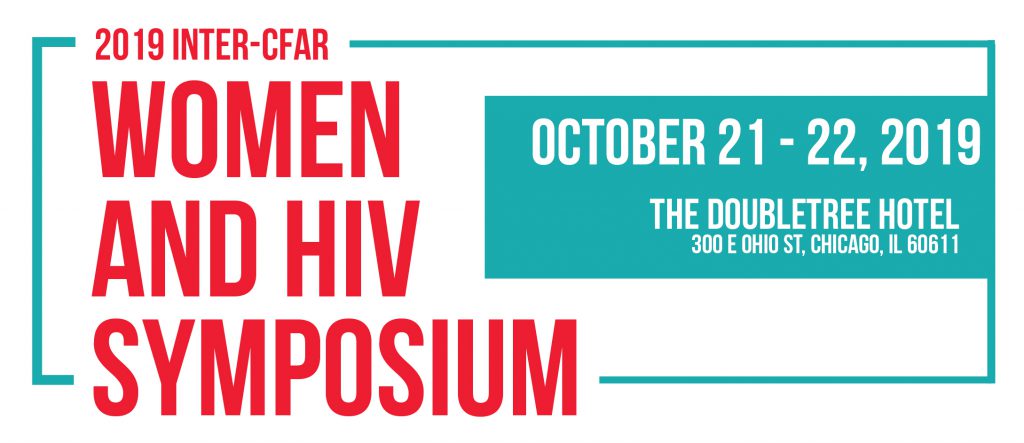 Overview
The Inter-CFAR Women and HIV Symposium identified gaps in knowledge in HIV and women's research and emphasized the development of new strategies to move the field forward. The meeting included 175 participants, oral and poster presentations from 54 early career investigators, and members of 18 CFARs, as well as many of their domestic and global collaborators. The organizing committee thanks the symposiums' sponsors and the enthusiastic young and established scientists for making the meeting a success.
Agenda At-A-Glance
---
Day One
7:30 a.m. Registration Opens, Poster Set Up, and Continental Breakfast
8:00 a.m. Opening Session
Welcome from Chair of the HIV in Women Working Group
Phyllis Tien, UCSF-Gladstone CFAR
Community Address
Maya Green, Howard Brown Health
Keynote Adress
Thomas Hope, Northwestern University / Third Coast CFAR
9:00 a.m. Plenary 1 — Hormones, hormones, hormones
Clinical trials: ECHO results
Jared Baeten, UW/Fred Hutch CFAR
Basic Research: The microbiome, hormones, and the mucosal microenvironment
Adam Burgener, University of Manitoba
Sociobehavioral Research: Impact of HC on Women's Health in Resource Poor Settings
Margaret Kasaro, UNC Global Projects Zambia, UNC CFAR
10:35 a.m. Oral Abstract Presentations
Hormonal contraception and women's HIV acquisition risk in Rwandan discordant couples, 2002-2011
Kristin Wall, Emory University CFAR
Experiences of side effects among new contraceptive implant users concomitantly using efavirenz- or dolutegravir-containing
Randy Stalter, UW/Fred Hutch CFAR
Tailoring a gender-specific HIV cure strategy using NK cells expanded ex vivo
Mary Ann Checkley, Case Western Reserve CFAR
Distribution of I.V. injected Cu64, Zr89, and fluorescently labeled VRC01 and VRC01-LS in the in vivo Rhesus Macaque Model
Ann Carias, Northwestern University / Third Coast CFAR
12:10 p.m. Networking Mentoring Lunch
1:20 p.m. Plenary 2 — Long Acting ARV formulations for treatment and prevention: Are there sex differences?
Clinical Research: Sex differences in LA-CBV
Kim Smith, ViiV Healthcare
Clinical Trials: New clinical trials in LA-ARV; Long acting ARVs in Non-Adherent populations
Aadia Rana, UAB CFAR
Sociobehavioral: Acceptability of long-acting ARV formulations in MSM populations
Bob Schieffer, Northwestern University CFAR
Sociobehavioral: Acceptability of long-acting ARV formulations in young women in SSA
Ariane Van der Stratten, UCSF-Gladstone CFAR
3:25 p.m. Oral Abstract Presentations
Controlled Release of Tenofovir Alafenamide (TAF) for HIV Pre-Exposure Prophylaxis (PrEP)
Alice Linying Li, RTI / UNC CFAR
Development of Subcutaneous Biodegradable Implants Comprised of Long-Acting (LA) Antiretroviral (ARV) and Hormonal Contraceptive
Archana Krovi, RTI / UNC CFAR
Shots don't bother me: how a history of injectable medication and/or substance use impact HIV-positive women's attitudes toward, and willingness to use, long-acting injectable antiretroviral therapy
Morgan Philibin, Columbia University
4:30 p.m. The Value of Cross-Disciplinary Research to End the HIV Epidemic
Welcome from Third Coast CFAR Director
Richard D'Aquila, Northwestern University / Third Coast CFAR
Remaking a Life: How Women With HIV/AIDS Confront Inequality
Celeste Watkins-Hayes, Northwestern University / Third Coast CFAR
5:00 – 7:00 p.m. Poster Abstract Presentations and Reception
Hors d'oeuvres, wine, and beer will be served
Day Two
8:15 a.m. Continental Breakfast
8:40 a.m. Opening Remarks Susan Cu-Uvin, Brown University / Providence-Boston CFAR
8:45 a.m. Plenary 3 — Optimization of Pre-Exposure Prophylaxis in Cis and Trans Women and Men
Overview of PrEP Efficacy, Adherence, and Delivery in Cisgender Women
Lisa Hirschhorn, Northwestern University, Third Coast CFAR
Overview of PrEP Efficacy, Adherence, and Delivery in Cisgender Men
Al Liu, SFDPH Bridge HIV / UCSF-Gladstone CFAR
Overview of PrEP Efficacy, and Delivery in Transgender Populations
Jae Sevelius, UCSF-Gladstone CFAR
Basic Science: Mechanisms of Sex Difference in PrEP function
MacKenzie Cottrell, UNC CFAR
Clinical Trial: Dapivirine Ring Progress
Sharon Hillier, University of Pittsburgh
11:00 a.m. Oral Abstract Presentations
Understanding PrEP Persistence among Ciswomen & Transgender Patients
Maria Pyra, Howard Brown Health
Para mi Misma: Providing PrEP in combination with gender affirming care in a community-based setting for trans Latinas
Sophia Zamudio-Haas, UCSF-Gladstone CFAR
Assessing the implications of a hormonal contraceptive in a multipurpose prevention implant for unintended pregnancy and HIV prevention: Qualitative insights from South Africa and Zimbabwe
Mary Kate Shapley-Quinn, RTI / UNC CFAR
12:15 p.m. Networking Mentoring Lunch
1:30 p.m. Closing Talks
1:45 p.m. Group Mentorship Session for Early Career Investigators
How to Get Your Work Noticed: Engaging Policy Makers and Media
Brian Mustanski, Third Coast CFAR
Tips and Resources for Early Career Investigators: A Panel with Representatives from NIH
Denise Russo, NICHD; Natalie Tomitch, OAR;
Joana Roe, NIAID; Samantha Calabrese, NICHD
Download Slides from NIH Panel (PDF)
3:00 p.m. Symposium Concludes
Remove Posters from LaSalle Ballroom II
---
---
---
---
Planning Committee
Phyllis Tien, MD
University of California, San Francisco
UCSF-Gladstone CFAR
Renee Heffron, PhD, MPH
University of Washington
UW/Fred Hutch CFAR
Thomas Hope, PhD
Northwestern University
Third Coast CFAR
Susan Cu-Uvin, MD
Brown University
Providence Boston CFAR
Susan Cohn, MD, MPH
Northwestern University
Third Coast CFAR
Roslyn Taylor, PhD
Northwestern University
Third Coast CFAR
Richard D'Aquila, MD
Northwestern University
Third Coast CFAR
Justin Schmandt, MPH
Northwestern University
Third Coast CFAR
Lauren Sterling, MPH
University of California, San Francisco
UCSF-Gladstone CFAR
---